Why We Don't Use Australia Post
Author: Graeme Olsen Date Posted: 29 January 2016
We've had a long standing policy of only using Australia Post as a last resort (eg. for PO Boxes). We often get asked why, so we've put together a quick summary for you.
If you look at the table below, we compare Toll DX Couriers versus Australia Post and measure them against 6 important criteria that are essential for us to run our business properly.
Unfortunately, Australia Post comes up second best for each criteria: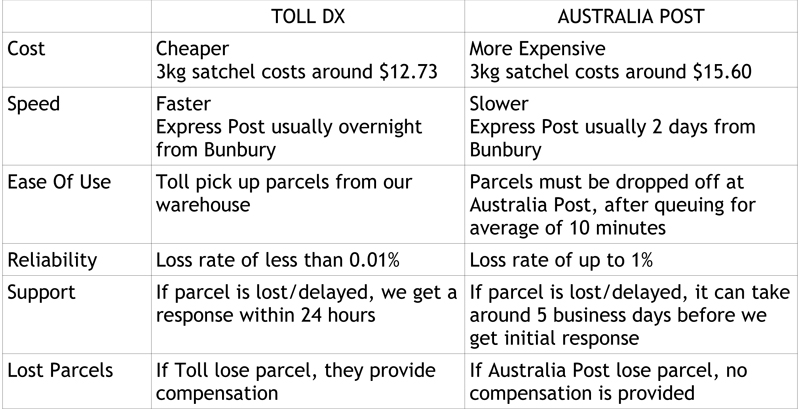 We understand why some people want to use a PO Box. We have one ourselves. It's a safe option if you haven't got a secure mailbox at your place, or if you're changing address regularly. It just means that in those instances we have to use Australia Post (only Australia Post can deliver to a PO Box, or Parcel Locker box).
So... if you provide a street address, we will always use Toll couriers where possible for Express Post deliveries. If you want to use a PO Box that's absolutely fine! We'll just have to send via Australia Post, that's all.
What's been your experience using Australia Post? We'd love to know!
---
Leave a comment