Multistrada 1260 Enduro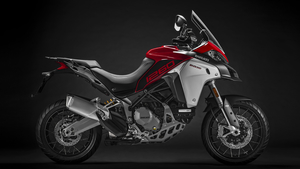 Listed below are the accessories we sell for the Ducati Multistrada 1260 Enduro.
If the part you want is not listed, please contact us and we can look at ordering it in for you.
The Multistrada 1260 Enduro has a new Ducati Testastretta DVT 1262 engine with full torque curve as well as a renewed chassis for greater ease of riding at low speeds or when maneuvering. It also has a redesigned interface that is even more intuitive: cruise control, hands-free start up and backlit handlebar switches that adapt perfectly to the rider's needs.