ZX10R Performance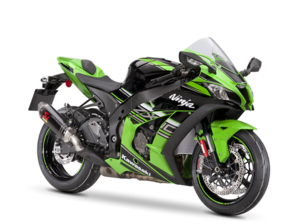 Listed below are the accessories we sell for the Kawasaki ZX10R Performance.
If the part you want is not listed, please contact us and we can look at ordering it in for you.
The ZX10R Performance features KIBS (Kawasaki Intelligent anti-lock Brake System), a high-precision brake system designed specifically for supersport models; Electronic Throttle Valves that allow the ECU to deliver the ideal amount of fuel and air to the engine; and Horizontal Back-link Rear Suspension that arranges its shock unit horizontally, greatly contributing to efficient use of space and mass centralisation.
Kawasaki ZX10R Performance Accessories: