Radiator Guards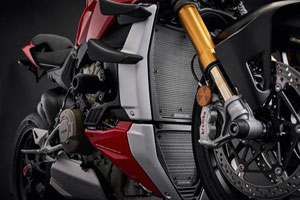 Listed below are the radiator and oil cooler guards we currently stock.
We can supply guards from a range of top brands including Evotech Performance, R&G Racing and more.
If the product you are looking for is not listed below, please contact us and we can look at ordering it in for you.
Click Here To Search By Bike Model.

Radiator Guards:
If you want to take care of your motorcycle, a radiator cover is a must. If you fail to protect your radiator, you could experience issues due to road debris. Ideally, your motorcycle radiator guard will be both light and durable to ensure perfect protection and a flawless ride.
We carry a wide variety of high-quality radiator covers for brands like Aprilia, Ducati, Honda, KTM, Suzuki, Yamaha, and so many more.
If you're not sure exactly what radiator will fit your motorcycle, Hurtle Gear can help! Feel free to contact us at 08 9721 1326, or online. We have a team full of experts who can't wait to help you find our perfect radiator cover.
Some specific products we carry include the Aprilia Dorsoduro 750 2008 - 2017 Evotech Performance Radiator Guard Protector which is both lightweight and durable, and perfect for your motorbike. We also offer the Aprilia RSV4 2009 - 2014 Evotech Performance Oil Cooler Guard, the BMW S1000 XR 2015 - Onwards Evotech Performance Radiator Guard, and so many more.
Although all of our products are high-quality, we offer brands in a range of prices so that every motorcycle owner can easily afford our radiator covers, even across a variety of budgets. We know that these elements are crucial to the performance and upkeep of your motorcycle, so we strive to provide something for everyone! Our goal is to satisfy our customers with the best-of-the-best in radiator covers, while making them available to every rider, of every budget.
Shop our wide variety of radiator covers today and don't forget to call or contact us with any questions! We can't wait to help you find your perfect product!
Click on any of the subcategories below to narrow your search: