Spindle Bobbins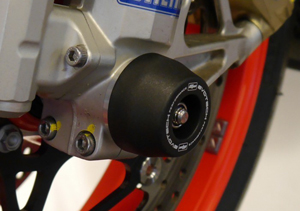 Listed below are the spindle bobbins (axle sliders) that we stock from a variety of top brands like Evotech Performance, R&G Racing, Puig and many more.
If the product you are looking for is not listed below, please contact us and we can look at ordering them in for you.
Click Here To Search By Bike Model
We only provide the highest quality motorcycle bobbins to ensure that you're always satisfied with your purchase. If you don't find exactly what you're looking for on our website or in our store, feel free to let us know - we can likely order it for you!
When it comes to inventory though, we have a wide variety of products to accommodate a wide variety of budgets. One of our most popular products is the Aprilia RSV4 2009 - 2014 Evotech Performance Front Fork Spindle Bobbins , as well as our BMW R Nine T 2013 - 2016 Evotech Performance Front Fork Spindle Bobbins.
We also offer products like the Ducati Diavel/XDiavel R&G Racing Rear Spindle Sliders, and the Ducati 749/999 R&G Racing Spindle Sliders.
If you're not exactly sure what sliders, axle sliders, or bobbins you need for your motorbike, feel free to chat with our experts! They'll be able to guide you in the right direction so that the product you buy is the right one.
No matter what kind of motorcycle you have, we can provide for you. Hurtle Gear is a fully-stocked motorcycle supply store that can ensure that your motorbike is running at its best. With our wide range of product offerings, brands, and budget levels, you're sure to find exactly what you're looking for.
We hope you find the correct motorcycle bobbins and sliders, but if not, be sure to let us know so that we can custom order the part you need.
Click on any of the subcategories below to narrow your search: