Rearsets & Footpegs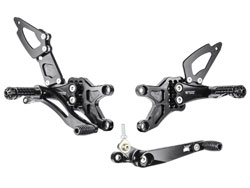 Listed below are the rearsets and accessories we sell from top brands like Bonamici Racing and LSL.
If the product you are looking for is not listed below, please contact us and we can look at ordering it in for you.
Click here to search by bike model.

Rearsets & Footpegs:
If you're looking for the highest quality motorcycle rear sets and foot pegs, you've come to the right place. At Hurtle Gear, we provide industry-leading products from a variety of brands and in a range of budget options.
We strive to provide Bonamici Racing and LSL branded rearsets and foot pegs for most models, but the options are endless with Hurtle Gear. If you're interested in a quote for a specific product for your motorcycle, please feel free to contact us. If you don't see exactly what you need on our website, we can order foot pegs or rearsets for you, and provide a free quote before doing so.
We offer a wide variety of rearsets, foot pegs, foot peg adaptors, and other products that you may need while modifying your motorcycle. Our inventory considers every element of installing these components.
If you've found the perfect product, but aren't sure how to install your new part on your motorcycle, feel free to let us know! We'll be happy to talk you through the process to make modifying your motorbike a breeze. You'll love our products so much, you'll want to get to work as soon as you get home.
If you'd like to talk with a professional in-person about your motorcycle parts, feel free to visit us at 3/14 Rose Street Bunbury, Western Australia, 6230. We're open Monday through Friday from 9am to 5pm. We can't wait to see you!
Click on any of the subcategories below to narrow your search: