Turismo Veloce 800 Lusso SCS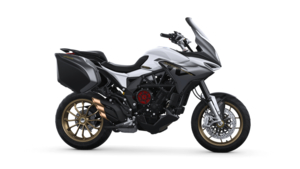 Listed below are the accessories we sell for the MV Agusta Turismo Veloce 800 Lusso SCS.
If the part you want is not listed, please contact us and we can look at ordering it in for you.
The Turismo Veloce 800 SCS is named for it's debut of the innovative Smart Clutch System developed by MV Propriety, providing electronic control of the clutch.
This powerful tourer truly sets the bar high for the kind of technologies we can expect to see from MV Agusta in the future.
MV Agusta Turismo Veloce 800 Lusso SCS Accessories: