Choosing The Right Protection For Your Motorcycle
Author: Graeme Olsen Date Posted: 15 March 2019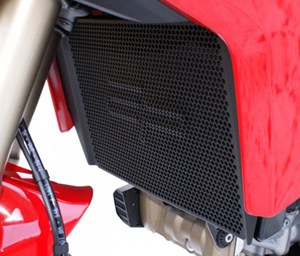 It's your pride and joy. You've spent money on it, washed it, polished it, and you love riding it. But how do you best protect your motorcycle from life's little accidents?
Here's a run-down of the most important pieces of protective equipment for your bike:
Radiator Guard
One of the first bits of damage you'll notice on your bike are the dents and scratches you'll get on your radiator from stones and other road debris. Even from just a casual highway cruise or riding around town. But worse case scenario is that you can even puncture a hole in your expensive radiator!
This can be solved with a light-weight radiator guard that, if designed the right way, will not only stop rocks and other items hitting your radiator, but still allow plenty of airflow through.
Radiator guards are usually made from aluminium or stainless steel, and are designed for your particular bike model, meaning they should fit quickly and with no modifications required. And no cable ties either! If the radiator guard you're considering has cable ties, hunt around for another brand that bolts straight on using the existing mounting points.
Crash Bobbins
No matter how safe a rider you are, everyone eventually drops their bike. Sometimes it's not even your fault! When this happens, it can cause expensive repairs, especially if you've got fairings.
Crash Bobbins (also called Frame Sliders) are designed to help minimise damage to the main frame area of your bike including fairings, engine cases, etc. The amount of protection varies depending on the type and brand of sliders, but they are all designed to be a sacrificial unit, so that if you have a fall, you can just replace the slider (eg. $50) instead of a whole new fairing.
For the majority of bikes, frame sliders should be able to be fitted directly to your frame to an existing mounting point, without any modifications.
Axle Sliders
Although main frame sliders provide a good amount of protection, they generally don't cover your front forks, brake callipers, or swing-arm. This is where Axle Sliders come in (also known as Spindle Bobbins).
Axle sliders are protective bobbins that are mounted on a "spindle" that feeds through your front or rear axle. They're an absolute cinch to install, and will help protect the front and rear wheel areas in the event of a fall.
For those bikes that don't have traditional paddock stand bobbin location points, you can sometimes get rear axle spindle bobbins that also act as paddock stand bobbins. These are designed slightly differently, so they have a groove in the bobbin for your paddock stand to hook into.
Crash Bars
For the next level in main frame protection you can opt for crash bars. These are not available for all models, but they consist of a heavy duty bar that bolts onto your bike, to completely protect it if you crash. While quite effective, crash bars are quite heavy and also significantly affect the look of your bike.
Other Products
There are plenty of other kinds of protective gear you can buy for your motorcycle. Here's a few to consider:
Air Intake Guards - stop debris from damaging your air intakes at high speed
Bar End Sliders - protect your bar ends in the event of a fall
Bike Cover - for protecting your bike when you're not riding!
Bash Plate - great for going off-road, protects your sump etc
Downpipe Grills - for those bikes that need them, protect your downpipes
Engine Case Covers - as the name suggests, they cover your engine cases!
Engine Guards - heavier duty guards that protect your lower engine
Exhaust Protectors - usually wrap around your exhaust to prevent scratches
Headlight Guards - especially good for off-road, protects your headlight from rocks etc
Tail Sliders - help protect your rear seat area in a fall
Tank Sliders - attaching to the sides of your tank, these can help protect your tank in drop
---
Comments (2)
RE: Sliders for a GSXR 1000 2007 MODEL

By:

Hurtle Gear

on 20 March 2019

Hi Glenn, you'll want these ones here then (no drill): https://www.hurtlegear.com.au/suzuki-gsxr1000-2017-onwards-evotech-performance-no-drill-crash-protection/. Hope that helps! Cheers
---
Sliders for a GSXR 1000 2007 MODEL

By:

Glenn

on 19 March 2019

Hi im after sliders for my gsxr 1000 2007 model.i would like a price and the one i don't need to cut the fairing.
---
Leave a comment