Hurtle Gear Now Selling LSL Motorcycle Accessories
Author: Grae Olsen Date Posted: 8 January 2014
We are proud to announce that we are now stocking high quality, German engineered and manufactured motorcycle accessories from LSL.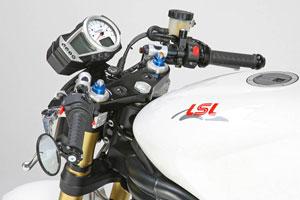 We are slowly building up the product range we hold, and will eventually include handlebars, grips, clip-ons, footrests, conversion kits, and other accessories.
LSL's core products are technical accessories for motorcycles. They are designed and drawn in their Krefeld workshop (Germany). Highly specialized manufacturing plants in Germany then produce the individual components. Back on site in Krefeld, they are tested for perfect size, precisely assembled and shipped all over the world as LSL products. LSL commissioned select manufacturing plants in Germany with the production of their parts and components. There, ultramodern, cost-efficient machines work to secure international competitiveness. LSL's research and development unit supports professional racing teams in order to ensure that the lessons learned in the extreme environment of the racetrack will be applied to the further development of LSL products.
To browse our current range of LSL products start here, or contact us if you'd like us to order in specific parts.

Have you bought LSL products before? Are there particular LSL products you want? Let us know in the comments section below!
---
Leave a comment