Hurtle Goes Racing - Part 4: In Hot Blood
Author: Dave Roberts Date Posted: 16 September 2015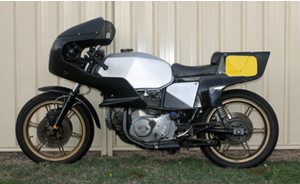 So the plan is to go through this stuff chronologically. There are a lot of people who know more about this and are more skilful than me, but it seems that you can only start off as a know nothing once, and it'll be good to share that as it happens. I'm going to try to share what I learn as I go, and how that changes my approaches.
There's a lot going on at Hurtle Gear HQ, so the posts are really behind, and some stuff is pretty exciting so I just have to share it with you out of order. Last week I went out and had my second race day. There were 3 races for me and a few firsts.
The Historic Competition Motorcycle Club (HCMC) races at two venues. Barbagallo Raceway is at Wanneroo, just north of Perth, and Collie Motorplex, about 2 hours south of Perth. Collie is shorter, at 1.6km around, which is better for less powerful machines. It's also cheaper for the club, so when we race at Collie, racing is Sunday and Saturday is available for tuning.
Tuning went well on Saturday, with stuff for me to learn, a bunch of mates came up to check it out and it was all good fun. Watch out for the post that goes through that.
Sunday I was ready and it was on. The grid for me included some other classes including P6 Seniors, and P4 seniors, but most critical, there were 3 of us in P5 seniors. George is about 7 seconds/lap faster than me. He was more ahead of me than that at Wanneroo, so I knew he wasn't my competition. Ziggy was an unknown. He races some seriously nice Laverdas in other classes and his pit area looks the business, so I expected him to be tough. His bike is all colour matched to the Italian beauties, but it has dirt bike DNA, so maybe there was a chance. As it turns out he's not that many seasons ahead of me and by the end of the day I was within a second and a half of his lap times, so I was right, he's the target.
Race one, my first start at Collie. Off I went and I was hard at it, but nearly everyone got a better turn 1, 2, and 3 than me so I was just doing my best but not feeling that good about it. Lap 2 I ran off the track at turn 8 and ran a time about 10 seconds slower than the rest of my laps. That turned the race into practice. No drama really, I need practice laps, but I'd prefer to do them well. Result, 3rd out of 3.
Race two, everything had been going well. Got the 5 second call and hit the button to grid up. Engine turns over and fires, but as soon as I let go of the starter button it dies. Tried several times, same result every time. Eventually the age old trick of jiggling the button worked, the Pantah roared into life, and I went to check whether I could grid up. No such luck, they'd already gone out on the sighting lap, so I started from pit lane after everyone else had gone. At this point I'm not really competitive, but it's laps in hot blood. I got after a guy on an older 250, and followed him round. He's smoother than me and he makes better time through the corners, eventually he slips away from me. Then both the P6 seniors guys go past. Rob was coming second in that class, he's only a couple of years in, but as he whizzes past I see it again, DAMN he's smooth. I followed a few guys through a few corners and the smoothness of them, keeping pace through corners is what's doing me in. A solid learning experience, but 3rd out of 3 again.
Between races I pulled apart my kill switch and put a fine wet and dry over every surface I could get to, to make sure I started. Not sure it had any major effect, but it ran next race so I was happy. In my mind the aim was to be as smooth as I could be.
Race three. Out on grid on time. Red light goes out and we're away. I'm getting a good start, the Pantah is pretty good off the line. Turns one and two are a series, and the best guys start to clear out from there. I'm in place to keep up with some of the 250s, and the race feels like a much more competitive affair. I feel like my turns 3 and 4 are among my best, and the slower guys aren't just waving me goodbye. The smooth attempt isn't making me any faster, but I can tell straight away that it's less tiring for me and I expect it's not as hard on the bike. My arse is still firmly in the saddle, and I've set next meeting's new challenge, move my weight around. Lap 4, I'm feeling OK, I've put a couple of passing moves on some of the 250s and I'm really having fun circulating. What's more exciting though, is that I'm now only a few turns from the end of the lap, and NO ONE HAS LAPPED ME. This'll be my first 5 lap race.
Lap 5, thinking smooth thoughts, but wringing it's neck. I'm over the start/finish, and into one and two. Back off a little for two, but don't shift down, keep it pinned from before the apex and use all the track. My three is generally pretty good, but it'll take a couple of shifts down and I grab a big load of Brembo. The back gets all light and drifts around a little, I'm told it looks exciting and certainly feels like I'm racing but I'm not sure it's as smooth as I want, nevertheless I'm through and looking for acceleration as I get out to the right and head for 4. Not far from four I'm focused on that apex and someone comes past on the outside. Crap, I thought I might have done a race without being lapped. Don't know who that was but he's stuffed that idea. Still focused on the apex of four when BAM… I look to my right to see what's belted my right shoulder and see Tony on an RD350LC bounce off and head past me on the right. He recovers quickly and takes turn 4 ahead of me, heading off into the distance.
I'll think about that later, my mind goes, I've got a race to finish, grab a handful and head off for a fairly uneventful rest of the race. I don't think anyone else got past, but in truth I'm not sure how much I recall, my first racing incident kind of took most of my consciousness for a while.
After the cool down lap, I pulled into pit lane, and there's Tony. He's hit me hard enough that his left clip on has folded in. He's a pretty experienced rider and that hasn't slowed him up much, so he's come home for second in his class. You don't know how that stuff'll affect you until it happens. As it happens I didn't slow up out on track and I'm grinning like an idiot now. We have a brief chat about what happened, and how I might have responded differently. Basically, it's a racing incident though, and "you get that". Thankfully everyone came home on their tyres.
So Race three I'm still 3rd out of three. I've had my first 5 lap race, which is a relief. I've had my first racing incident and I didn't fold up under the pressure, and I've had a phat time. Really phat.
Next time Ziggy, next time.
---
Leave a comment