Motorcycle Carbon Fibre Products
Author: Grae Olsen Date Posted: 25 October 2016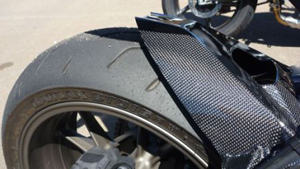 Everyone wants carbon fibre on their bike. It's lightweight and strong. So not only does your bike look good, but it's lighter.
We've begun to source some of the best carbon fibre products from around the world, and in keeping with our motto of only stocking high quality products, we only get in good quality gear. Here's some brands we've got on board already:
Racecon Products - making carbon fibre products for most brands, their manufacturing process is autoclave, they do not offer cheap wet layup products. They are also committed to providing customers total satisfaction (like us). Contact us to see if they've got products for your bike. If we already have it on the shelf then it can ship immediately. If not, it can take a few weeks to get in.
Shift-Tech - these guys are another brand that say things like "if you want cheap quality, go somewhere else" and "if it's not good enough for our own bikes then we won't sell it". They fit into the Hurtle Gear philosophy perfectly and provide a great range of high quality gear for the big brands. Again, if we already have the part you need on our shelves then it can ship immediately. But if not, it can unfortunately take about a month to get in.
Evotech Performance (UK) - we stock a lot of Evotech Performance gear, and for good reason. They have recently started adding some carbon fibre gear to their range and as it grows we will be ordering it in. We already hold most Evotech Performance products on the shelves.
As always, just contact us and we'll see what we can source for your bike.
---
Leave a comment