Hurtle Gear Now Stocking Bonamici Racing
Author: Graeme Olsen Date Posted: 17 April 2019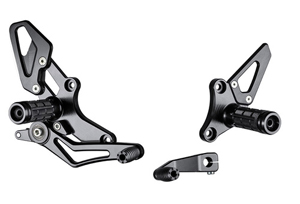 As we hope you know by now, we only stock the highest quality brands.
Brands that only we would use ourselves, and brands that we have tested for quality and good customer service. There have been many brands that haven't made the cut.
We're pleased to announce another brand that has passed the test and been added to our shelves: Bonamici Racing (Italy).
Bonamici Racing engineer and manufacture a range of high quality motorcycle accessories in their factory just north of Rome. Their product range includes rearsets, crash protection, triple clamps, levers, handlebars, chain adjusters, oil tanks, swing arm spools and more.
As usual with new brands we take on, we have a small selection on the shelves which will build over time, and in the meantime if there's anything from Bonamici Racing you'd like us to order in, just contact us and we can get it added to our next shipment for you.
---
Leave a comment