RAM Mounts Availability
Author: Grae Olsen Date Posted: 5 October 2015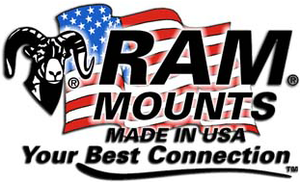 With that many items in their range, we simply can't hold everything that make at once, so we have their most popular products on our shelves here in Bunbury. Our website shows which items we have, and how many of each we have, in real time.
If you're after a RAM Mount product that is not listed on our site, we can place an order with RAM Mounts and start stocking that product too. However, due to the RAM Mounts manufacturing process (made to order) plus the fact that most shipments need to come by boat due to their size and weight, it actually takes around 3-4 months for them to arrive. Serious!
Therefore, if the item you're looking for is not listed on our website, please allow quite some time for us to order it in for you. We will always order extra items of that product at the same time, so once we have received the original shipment we'll then have extra on the shelves here in Bunbury for future orders.
Using this process, our range of RAM Mounts is increasing over time.
If you're unsure which RAM Mount product will work for you, please contact us and we can help you further.
---
Leave a comment