Yamaha MT-07 Radiator Guard Installation
Author: Grae Olsen Date Posted: 10 May 2016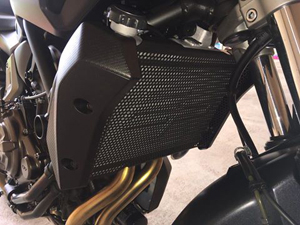 We've got a lot of accessories we want to fit to the Hurtle Gear demo bike. First on the list? A radiator guard. Only because after 80km there were already a couple of little dings in the radiator. Time to add some protection.
The Evotech Performance radiator guard for the Yamaha MT-07 is a very simple installation, and basically involves the following steps:
Remove the side cowlings (done with the Allen key that comes with the bike - check under your pillion passenger seat)

Cut the included foam strip in half. Stick one half on the top section of the radiator, the other half on the bottom. NOTE: The kit has now been updated to use rubber bungs instead of foam strips.

Slot the radiator guard into position

Re-fit the side cowlings

NOTE: The Evotech Performance Yamaha MT-07 radiator guard is not compatible with the Yamaha MT-07 Radiator Side Guards.
The job shouldn't take more than 10-15 minutes from start to finish, and once it's on it will provide excellent protection against road debris, but still allow plenty of airflow through to the radiator.
You can find out more about the radiator guard here.
Here's a video of the installation. NOTE: This was filmed using the previous version of the kit that used a neoprene foam strip. The new version now has rubber bungs instead.
---
Leave a comment