How To Attach Your Phone To Your Motorcycle
Author: Grae Olsen Date Posted: 23 April 2014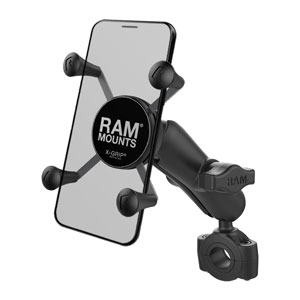 To attach your phone to your motorcycle, we recommend the RAM Mounts system which is very versatile and can be easily added to if necessary. RAM Mounts produce around 6,000 different product lines, but here is what you need to securely mount your phone on your bike:
1. The Cradle
There are specific cradles for every kind of phone out there, but they may not be appropriate because they are usually made for the phone without a case or cover. This is obviously a problem when you're out on the bike in the elements. Therefore, the better option is the X-Grip, which is a universal cradle that will fit most phones (any phones between 0.875" and 3.25" in width) easily.
Check out the X-Grip cradle here (they come in larger sizes too).
2. The Socket Connector
The RAM-B-201U-A is a small socket that connects the cradle to the bike mount. It uses the RAM 1" rubber ball design that gives you a very strong and versatile grip. With sockets at each end, it gives you almost unlimited viewing angles.
Check out the RAM-B-201U-A socket connector here (they come in longer sizes too).
3. The Bike Mount
There are a few different options here, depending on where you want to attach the phone on your bike. Some popular options include:
Handlebar Mounts - RAM-B-231ZU, RAM-B-408-75-1U or RAM-B-367U
Brake/Clutch Reservoir Mounts - RAM-B-309-1U, RAM-B-309-2U or RAM-B-345U
Fork Stem Mount - RAM-B-342U
Other (eg. mirror stem) - RAM-B-272U
All of these bike mounts will connect directly to the socket connector.
Once you've started with RAM Mounts, you can add/remove components as required.
---
Leave a comment