How To Set Up A Tablet Headrest Mount In Your Car
Author: Grae Olsen Date Posted: 29 August 2016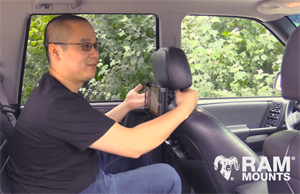 It's a popular entertainment option in cars, especially for kids, and especially on long drives. But what's the best way to mount a DVD player in the back?
One of the most popular options is mounting it on the driver and/or passenger seat headrest bar. This is done easily with RAM Mounts, as shown in the video below.
There are basically 4 parts that you will need to set this up the way it's shown in the video:
That's it! Once you've got those parts, you'll not only have a system that holds nice and tight and gives you almost unlimited viewing angles, but it all comes with a lifetime warranty so you're all set.
Check out the video below to see how it looks when it's all set up (forward to 2 min 32 sec to see the headrest mount).

---
Leave a comment